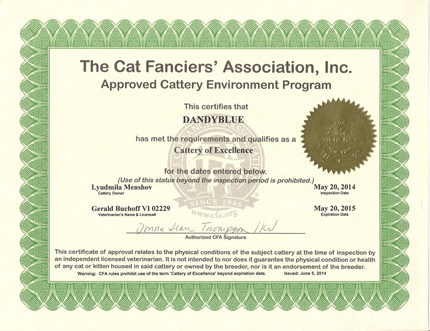 We have been British Shorthair breeders since 2002. Our cattery is registered with CFA and TICA associations but since 2006 we have been showing at CFA exclusively. We donít have a big and crowded cattery. Instead we pride our selves with quality and health of our Brits. Our cats and kittens live with us in our home like members of the family. We strive to produce healthy kittens meeting highest breed standards. At the same time we select for breeding not only the most beautiful but also the most friendly and outgoing cats. That is why our kittens are affectionate and good with other animals and kids. Our cats come from famous US lines and have won not only Champion and Grand Champion titles but prestigious CFA Regional and National Awards.


DandyBlue is a certified CFA Cattery of Excellence which means that we meet or surpass the strictest requirements of the Association. Our kittens will have all vaccination they need at their age and we provide a health guarantee with sales contract. If you are a new cat owner we will be happy to share our printed detailed recommendations on how to prepare your house and how to meet your new fur friend. We are always available to answer any questions or help with any concern.





We follow these three simple principles in managing our cattery:
The first point is to provide the best care for our cats. They have only high quality food and cat supplies, all medical treatment they need. Our house is spacious enough for our cats to feel comfortable. Our kittens are healthy, happy and used to peopleís hands.


The second point is to breed cats according to highest CFA standards. To achieve this we avoid breeding cats that have not earned at least a champion title. It means that our kittens only come from cats that were recognized by world famous experts.

The third point is our dedication to the original blue variety of the breed. Occasionally we are going to have other colors but we just love that color and we hope to find many people that will share this passion with us.